Corporate Governance
Basic philosophy
We aim to be Trusted Partners with Fair, Ethical and Legally Compliant Corporate Practices under the our philosophy "Providing Valuable, Leading-Edge Products and Services to Help Create a Beautiful, Prosperous Automobile Society".
Under these circumstances, we recognize that the establishment of corporate governance is an important issue for the continuous improvement of corporate value, and for that purpose it is essential to improve management transparency and strengthen the management oversight function.
Status of Corporate Governance
Corporate governance system
The schematic diagram of our corporate governance system is as below.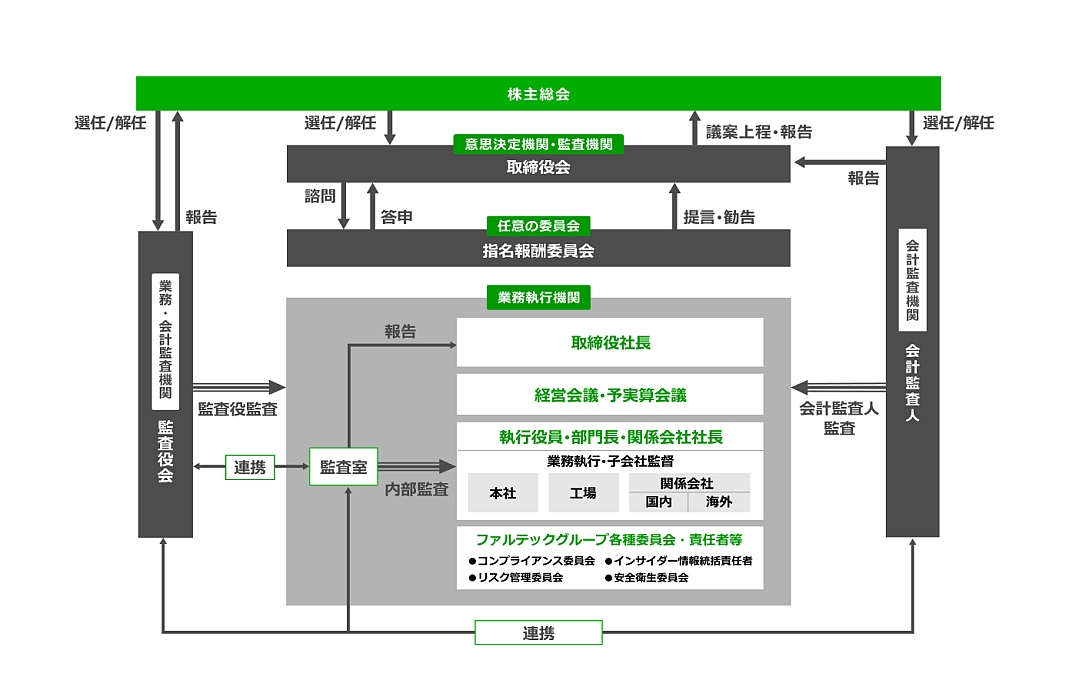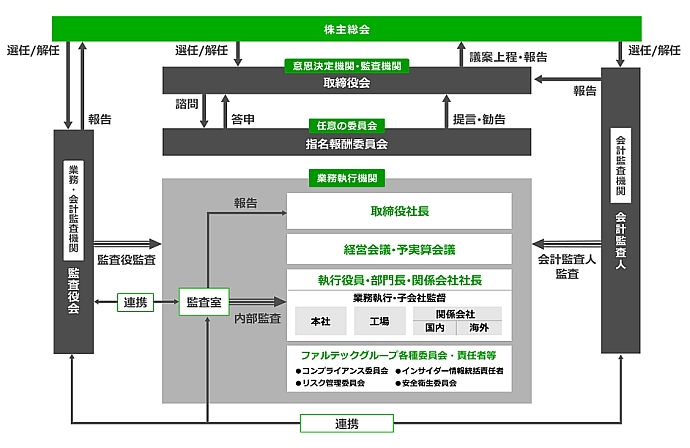 Compliance
Basic philosophy
FALTEC's management philosophy states, "Fair, Ethical and Legally Compliant Corporate Practices." We strive for thorough compliance in all areas based on this philosophy.
The FALTEC Group, in its effort to survive and grow as a business entity, maintains a constant awareness of its corporate social responsibility. Thus we steer the business so that all our employees contribute to society as good citizens.
Compliance system
Established Compliance committee
FALTEC has established the Compliance Committee with the Company's president serving as chairman and enhance consciousness of Legally Compliant.
Specific efforts
・Commit to code of conduct and established "Compliance week".
  All employee of FALTEC group commit to code of conduct every year.
  And to familiarize all employees with the compliance by having compliance week and testing comprehension of compliance.
・Established "Whistleblowing consultation services office".
 To identify and resolve compliance problems at an early stage, FALTEC has established internal and external Whistleblowing consultation services offices.